Tyrese Gibson certainly knows how to drive a fast car.
The former model got his acting break in The Fast and the Furious. Now, he's back for Death Race, an action-packed thrilled that co-stars Jason Statham.
Gibson shared his thoughts on the film with MoviesOnline:
How did you get involved with Death Race?
Paul reached out and said that he kinda had me in mind for it, but he didn't give me the part. What ended up happening is we met up at a hotel. And he ended up slipping and giving me the part without knowing. So my people said, "Tyrese, the director wants to meet you but he hasn't determined if he wants to go with you or not. So he'll let us know a couple days after the meeting if he's gonna go with you or not."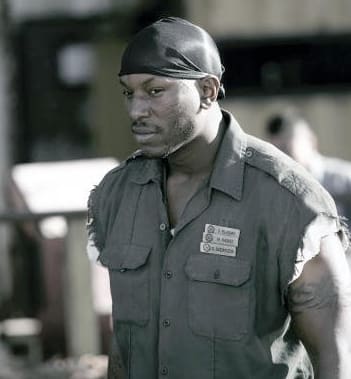 So at the whole dinner, I'm on edge. You're trying to put the good impression and all that. "Yeah, man, you know how this'll be great. I'd love to be a part of this." But where he slipped up at is he pulled his laptop out and while he was talking to me, he say, "You know, so these are the areas that we're gonna be filming at." So I'm like, "Oh, sh*t. You said we." Then he said, "This is the car that I have you in mind to drive in."
And I'm like, "Oh sh*t, well I'm not going to point that out." So soon as I got into my car, I called my people and I was like, "Yo, man, I don't know if he gave me the part or not but he did say this is the car he wants me to drive and this is the location we're supposed to be filming in. But it worked out."
Having done Fast and the Furious, did you need any more driving training?
Yeah, man. That's a part of my thing now. It's boy toys, getting up in there. This is much crazier than Fast and the Furious. I was in a Mitsubishi. This is like Mad Max steel. I mean, you see my big boy over there. Where's she at? There she is. This is a whole nother level. Did you all like the film? This to me is like a cross between Mad Max and some elements of Shawshank Redemption. There's like some real heavy, dark performances. Then it's boom, boom, it's crazy.