James Franco - who stars this weekend in Pineapple Express and later this year in the biopic Milk - recently sat down with USA Today.
As for the two movies come up, Milk producer Bruce Cohen said: "It couldn't be a better showcase for his talent to look at these two roles. They're both different sides of him...
He can bring the attributes of the young stoner guy he needs for Pineapple Express, but underneath that is the scholar and the deep thinker and the guy who wants to learn about art and is interested in politics. His performances are complex and layered."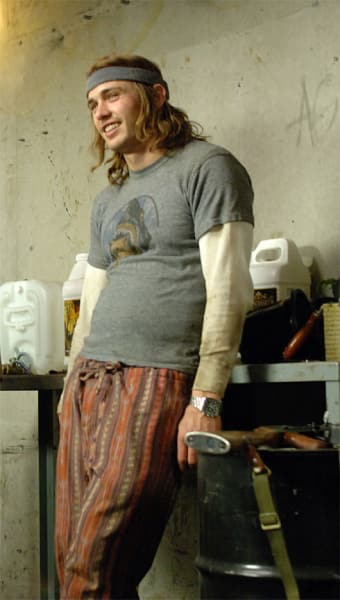 Franco himself was asked about the role of Saul (pictured above) in Pineapple Express and deadpanned:
"I was always going to play Saul. They found me in my apartment, there was no script, they just came into my place. My dealer came after me. It was perfect."
In reality, Franco told the newspaper that he "used to smoke weed, but I haven't done it in a long time. Everybody, even now, thinks, 'That guy is stoned.' It's just the way I talk, because I don't smoke weed.
Somehow, there's something about me, the way I talk, that implies that I'm on drugs."