Just as Woody Allen's latest movie, Vicky Cristina Barcelona, is set to his theaters, we have an update on the director's next movie.
The neurotic writer has penned a role for Curb Your Enthusiasm star Larry David.
According to JSOnline reports, the collaboration will be called Whatever Works. It's described as a "blackish comedy," where David plays the love interest of 20-year-old Evan Rachel, who Allen commended for a "great" performance, despite being a young actress working with such well-known stars.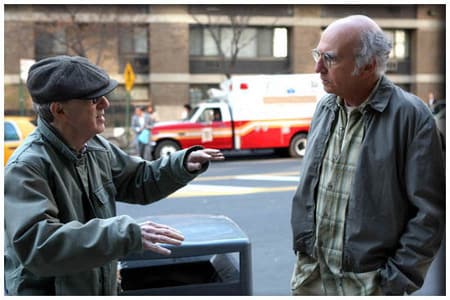 Whatever Works is set to be released in early 2009. Speaking on the film's star, Allen said:

"He's got a great, sarcastic, sour, wonderful, no nonsense sense of humor. I think I'm more illusory than him. He's a stronger personality. I'm more of a schlemiel, a dope. I would be the guy they would plant the microfilm on and I would never know it, and I would be out there wondering why people are shooting at me. Larry has a different quality. It was fun to write this for him."

As for the movie itself, the director said:
"There is sex in the movie. It's a comedy, a romantic comedy."