Woody Allen's latest movie, Vicky Cristina Barcelona, opens this weekend.
The A.V. Club recently sat down with the veteran, beloved director to discuss the film:
AVC: There's a really critical scene in the film where Javier Bardem propositions Rebecca Hall and Scarlett Johansson and convinces them to travel with him. Could anyone but Bardem have pulled that off?
Woody Allen: That's what I was thinking before. There probably are not a lot that could. There are some that could, but you really do have to have that kind of brooding, complicated, charismatic personality to not come off like a boob, and for women to be provoked by his proposal and to think actually that it might be interesting. If I didn't have Javier to play that part, and I was making the film in Spain, I don't know if I could've found someone.
I don't really know, because I'm not familiar with the Spanish cinema, so I don't know if there's another who knows enough English, and also has that kind of complexity to him.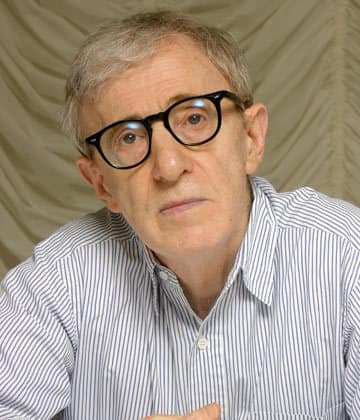 AVC: It's a romantic film, but would it be fair to characterize it as being ultimately pessimistic about love? One woman desires stability and the other desires passion, but both seem to be heading for different kinds of trouble.
Woody Allen: I would say the film is quite a sad film. The basic cosmetics of the film, as you watch it, are not sad, and so as you watch it, you're seeing a beautiful city and hearing wonderful music, and seeing these beautiful women and this charming guy.
So hopefully you would enjoy yourself, and there are some laughs and some moments you're interested in. [Mild spoilers follow and continue through the end of this exchange. —ed.] But when it's all over, and you tally up, you find that Javier and Penélope can't live with each other and they can't live without each other, so they're kind of tortured in their relationship.
And Scarlett Johansson knows what she doesn't want, but doesn't know what she wants, and probably will never know what she wants. And she kind of goes through life and has a relationship no matter what it is, and thinks, "This is the one that's going to give me a sense of fulfillment." And then over time it palls, because there's a discomfort in her, there's an anxiety inside her that she attaches to every relationship sooner or later, and thinks that it's the relationship, when in fact the shortcoming is in her. And she'll never really find exactly what she's looking for.
And Rebecca Hall would've loved to have some kind of exotic relationship with this person [Bardem], but in the end, she's just too scared and not the type, and she handles it awkwardly. And she is probably going to be some version of the marriage of Patricia Clarkson and her husband.
Maybe not identical, but her husband will probably, as years pass, be the guy that plays golf and maybe gets the boat, and they will have a stable, functioning marriage that's not the worst in the world, but will never reach any great heights at all. So on the whole, I do feel that it's a very pessimistic picture, and sad.