Daniel Craig was kind enough to sit down with ComingSoon.net last week and answer a series of questions from readers of that site.
Here's an excerpt from the interview, focusing on the iconic character Craig is taking on:
How do you feel James Bond evolves as a character in this movie?
I hope kind of well. There's no sort of clear answer. He's a spy. I think he hardens. I think is slightly distressing. We touch upon it in "Casino Royale" and I don't want to get all kind of deep and silly about it. But, he has his heart broken and suddenly you kind of see this broken man and I find that very interesting. But that can't be James Bond, because he can't be broken. He can't, because if he was broken it wouldn't work. It's finding that person that we can trust but not and that's something I wanted to make sure that we put into the first film that I don't want.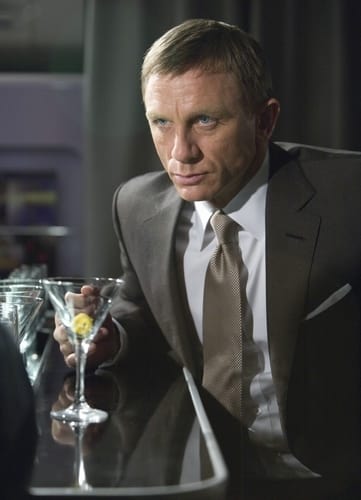 James Bond will always like his martinis, as this Quantum of Solace scene shows.

Someone just said to me, "well he's a bit like a bad guy" and I was like, "Yeah, well he kills people for a living." I mean where's the ambiguity? There's no ambiguity in that and it's up to the audience to decide whether or not they think it's right that he kills that person at that particular time. So the development of the character is one that we know this is what he does, this is how he gets it done. This is how he behaves in certain circumstances and hopefully he's open enough as a character for us to believe that when he hits something new he's discovering it as we're discovering it.
I'm very nervous about answering questions about kind of how I discover characters or where we take characters too because I think it's so much about what the audience perceives and how they believe it or how they don't believe it. I took something we did in "Casino Royale" and I've taken him on and he's moved on but you know he's still damaged and f*cked up and all those sort of things that you know he'd hopefully was in the first one.
And you know he kills people for a living. He must wake up in the night occasionally in a bit of cold sweat, but maybe we'll never see that, I dunno, who knows?