D.J. Caruso is the director behind the upcoming Shia LaBeouf thriller, Eagle Eye. Below, we've excerpted part of the interview Carusa gave MovieWeb about the movie:
Is the action pretty much unrelenting?
Oh, it does keep going but the editing process was more about letting the movie slow down a bit so we could get with the characters and get with the story because every roller-coaster has those up moments where you're going, 'Oh shit. How high is this thing going?' and then it goes downhill. I will say, and I mean this in a good way, it's a pretty exhausting movie.
It's based on characters and frenetic action and you're trying to figure out what's going on and ultimately you're dealing with a 1984 George Orwell premise of, instead of it being infused in our life, we're inviting it in our life with the technology. It's a popcorn movie, it's a lot of fun, but I'd like to say it's slightly more complicated than your average popcorn movie.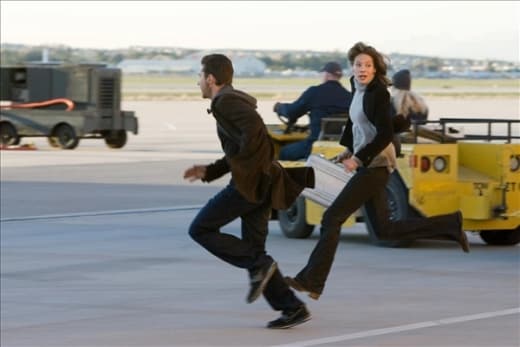 There's a lot of running in Eagle Eye. It opens September 26.

It seems more like a summer tentpole kind of action movie. Were you kind of surprised that it got this release?
You know, I agree because I thought, when we were first making it, that we were going to be a summer action movie then, basically, Paramount started thinking about it and started looking at the marketplace and said, 'You know what? We really feel like September is a good place for it.' Pineapple Express and Tropic Thunder dominated the August and everyone at Dreamworks they loved Tropic Thunder and knew it would do well, but I thought Pineapple Express was going to do twice the business that it did.
So, they said 'Let's go in September' and I think it's a real good move now because I think there's going to be a real hunger and a real thirst for that kind of kick-ass action movie again because after what happens in Labor Day and the end of summer, now we're into a lot of arthouse and a lot of Academy-type movies and, hopefully, by the third week of September, people are going to be like, 'All right, great. I want to go see a car blow up.'