Joseph Gordon-Levitt set to take on the iconic role of Cobra Commander in G.I. Joe: Rise of Cobra.
But can we expect from this remade role?
Fans of the comic, who know the character as a bombastic terrorist that entombed his own son, will likely see a version with which they are familiar.
"As we see it, he's a very twisted character," producer Lorenzo di Bonaventura told MTV News, adding that the key to Cobra Commander lies in his gritty past; and that we'll see every dirty piece of it. "As the backstory evolves, you discover why his personality [is like that]."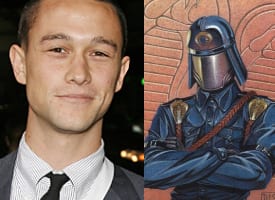 Moreover, the producer said Gordon-Levitt will leave his own vocal stamp on Cobra Commander.
"He has an interesting voice. He definitely has a take-off on that. I actually found the voice a little weak in the show…I'm sure I'll get killed for saying that. I don't know, it always seemed kind of silly. Hopefully we're going to be a little more menacing."