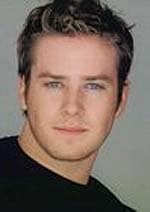 E! Online recently sat down with Armie Hammer, the man who's going to play Batman in the new
Justice League
movie.  Competing against Christian Bale's caped crusader will be no easy task.
Just what does Hammer think of Bale's Batman?  According to Hammer, "That guy's got his s--t down."
How differently will Hammer play Batman?  Well for starters, "My codpiece is bigger."
Joking aside, E! Online tries to get the skinny on whether this troubled production is actually being made.  During initial filming in Australia, the actor had to go through some intense training.  According to Hammer, "I would spend hours training with actual guns to prepare me for this stuff.  It was very intense. Our workout regimens were so rigorous that most of us would vomit.".
Wait... training with real guns?  That better be the bad guys with guns and not Bruce Wayne!
Head on over to E! Online for the full interview.