Keira Knightley takes on a role based on real events in The Duchess.
Both the actress and the movie are garnering Oscar buzz, as Knightley recently sat down with MoviesOnline to discuss the project:
What was your response when you first read the script?  Did you know anything about The Duchess?
I'd never heard of her before, no.  So the script came through my door with three very large huge white ostrich feathers attached, with a gold ribbon.  And I thought, "Oh, I don't care what it is.  That's fantastic."  And then I read it.  And I know I just thought that she was fabulous.  You know, I thought she was a fascinating character.  This idea of this woman who's politically so influential, and this huge fashion icon, and such a force of nature, and yet privately is somebody who is so intensely vulnerable and incredibly lonely.  And I thought, you know, the combination of those two things were sort of fascinating.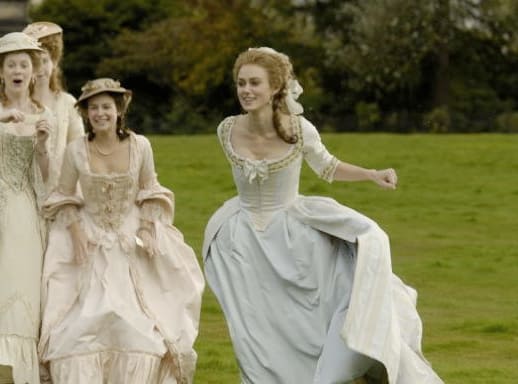 Could you identify with the notion that even in the 1700s, it appeared that the public was obsessed with so-called celebrities.  Do you identify with the kind of parallels that this film is making with today?  Especially you, being in the public eye?
I certainly don't look for autobiographical work.  So I wasn't looking to draw any parallels with myself whatsoever.  I thought, yes, it was interesting.  I thought that celebrity culture was a modern phenomenon.  It's fascinating to find out that it was around 300 years ago. 
I sort of thought it was kind of the least interesting aspect of the story, in a funny kind of way, though.  I mean, I thought that the way that she used it, the manipulation of image and everything, I thought that was very interesting.  What it was saying about the kind of mental state—that as the marriage started collapsing, she needed more and more and more attention from complete strangers, was an interesting sort of – this sounds like a psychological aspect to the character.  But no, I wasn't trying to draw any parallels to myself.