Porn + Comedy = Hilarity!
Such is the concept behind Zack and Miri Make a Porno, this fall's surefire comedic hit. Director Kevin Smith recently chatted with MoviesOnline about the project...
How did you get the concept for Zack & Miri Make a Porno?
The concept has been swimming around in my head since we finished Chasing Amy because I wanted to do this – not this exact movie but a movie about amateurs making porn with Ben Affleck, Jason Lee and Joey Adams. But we never got around to doing it. We did Dogma first and then life just took us in different directions. Since late 96, early 97, it's been kind of germinating and germinating and I never wanted to do a movie about the porn industry because Paul Thomas Anderson did a great job with Boogie Nights and why bother trying to do better than that.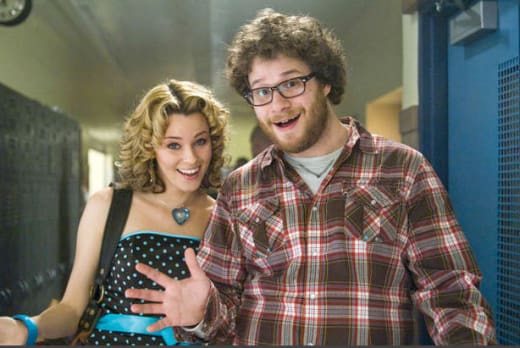 I was always really interested in the DIY porn, the people who were just like "I'm going to shoot myself having sex and throw it up on the internet either for money or just to be an exhibitionist." That I always found kind of interesting and then I just wanted to kind of meld it with a subject that's always been interesting to me which is the difference between fucking and making love and that's how it kind of came together.
Can you talk about your two leads who are essential to this movie?
That role was written for Seth Rogen. Seth Rogen was born to do many things and to play that role was definitely one of them. He was genius. I fell in love with him when I saw him in 40 Year Old Virgin on DVD. I was like "This dude has kind of a supporting role in this flick. I'm going to write this dude a lead role and he's going to love me forever. And I'm going to turn him into a leading man." I gave him the script two weeks before Knocked Up opened and I started seeing his face on billboards everywhere. I was like "Fuck! Judd Apatow beat me to the punch.
This dude is going to be super famous." Thankfully he liked the script and then it worked out double because I wrote the script for a dude in particular who then wound up being a movie star so I was like "Ooh, this is great!"
And Elizabeth Banks came into it after Rosario. I'd written a role for Rosario Dawson because we worked with her on Clerks 2 but she had signed up to do Eagle Eyes so she was out of the running. So we were kind of at ground zero in terms of finding a Miri which made Seth really happy because he was like "You don't know how many actresses I've seen over the years" because they audition everybody whenever they do Judd's movies.
So we went through the list of availables and Banks was one of six people, six actresses, who were available in the time that we were shooting who might be inclined to like the material. So I gave Seth the list and before I could say a word, he was like "Elizabeth Banks. I fucking love Elizabeth Banks. She was in 40 Year OId Virgin but she got really far on the casting process on Knocked Up so I think she'd be great. She should totally do it." So we went to Elizabeth, she read it, dug it, and we were off and running.  And those two had such amazing chemistry together.
Like really they bounce off one another because that dude is an organic comedy machine and that could be intimidating to stand opposite and try to act against. But man, she more than held her own. She was able to give back just as good as he gave. So we got lucky. Without those two, the movie sucks.