Movie fans will familiarize themselves with Nick and Norah's Infinite Playlist this week. The comedy opens on Friday.
Below, young stars Michael Cera and Kat Dennings talk about the film with ComingSoon.net. Enjoy these excerpts:
ComingSoon.net: How were the two of you cast for this and did you get to spend any time together before being thrown out onto the streets of New York?
Michael Cera: Yeah, we hung out.
Kat Dennings: We had a lot of rehearsals.
Cera: Yeah, rehearsals and hanging out, just getting to know each other. That was definitely helpful. We knew each other and we were comfortable with each other and with Pete (Solett, director) and with all the other actors before jumping in.
Dennings: And with the locations.
Cera: Yeah, we rehearsed at the locations, which I've never done.
Dennings: I don't know why more people don't do that, because it is the most practical thing I've ever heard of.
Cera: We actually blocked it out, so when we got there we didn't have think about blocking, we could think about everything else. It was nice.
Dennings: It was really nice.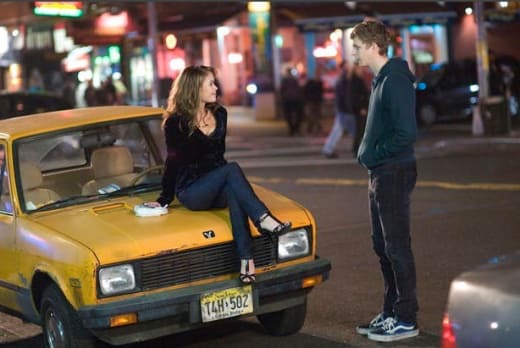 Tune in this week to Nick and Norah's Infinite Playlist, starring Kat Dennings and Michael Cera.
CS: Which one of you was cast first?
Dennings: You were first before anybody else.
Cera: Yeah, I met with Pete and then I was cast and that's when he started...
Dennings: I don't know if I was second cast, was I? Because me and Alexis and Ari were all cast around the same time. I think.
Cera: I think Pete wanted to find Norah before anyone else.
Dennings: It is just the girls when I was having my read with you, my final read with Michael it was me, Ari Graynor and Alexis Dziena. We all ended up getting the roles and we were all there together at the end. I wonder who beat everybody.

CS: At that point, you had already done "Superbad" but it hadn't come out yet?
Cera: It had come out I think. It was a few months before. We had done all the press tours for "Superbad" and everything. It was last summer and then in September it went to Europe.
Dennings: Yeah, it did because I saw you at the premiere.