We don't care that Michael Cera pretty much plays the same character in every movie. The guy is hilarious.
Here are excerpts from a new interview Cera gave, regarding his upcoming film, Nick and Norah's Infinite Playlist.
So how did this project come to you?
My manager sent me Raising Victor Vargas, which is the movie that Pete (Sollett) did. And I really loved it and wanted to meet with him. And then I went to New York and met him and really like him and wanted to work with him. I thought he would do the movie really well. And we made it.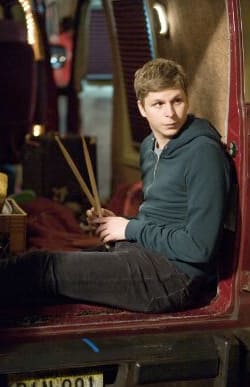 Because you guys are kind of in the target demo that movies like this and Superbad and Juno are aimed at. What do you think is different about these movies of the last couple of years, as opposed to back in the '90s when we had a lot of teen movies that were maybe a little more gross-out based, a little more sexist perhaps. Do you like any of the movies that come out now?
I like anything that feels authentic or comes from a real place. Comes from someone's heart. I've never liked those gross out comedies. I watch a lot of movies and that's not really what I watch or like. I just try and do things that I think I would like.