Appaloosa has a strange name and an unappealing genre. We've never been big fans of westerns.
But it also possesses a great cast, led by Ed Harris and Viggo Mortensen, who previously teamed up to rave reviews in 2005's A History of Violence.
In this movie, the actors portray Virgil and Everett, long-time friends that are hired to police a small team after it's threatened by a rancher. The setting is gorgeous, as we rarely give cinematographers the props they're due. Consider props doled out in this case, however.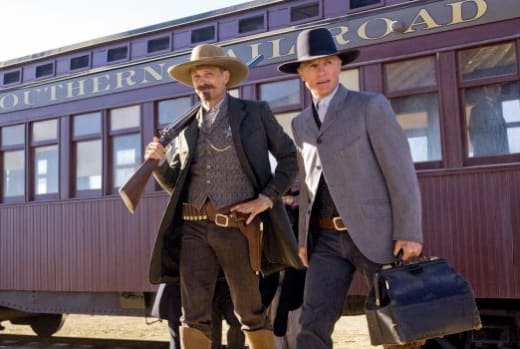 What also separates this western tale from others is that the budding romance between Virgil and a new widow in town, Alison French (Renee Zellweger). Viewers aren't treated to any cheesy first dates, of course, but instead witness tension between Virgil and Everett, as the latter distrusts the new obstacle that suddenly appears out of nowhere.
The positing of Alison into this story sets it apart from other westerns. Our heroes now face an evil rancher, as well as tension in their friendship, as the layers to Ms. French begin to become unraveled. We won't reveal anymore here, except to say:
A uniue story and solid performances should put Appaloosa near the top of any fall must-see list.