Nicolas Cage hasn't made a good movie since Adaptation in 2002. Sure, the National Treasure franchise is fun enough. But we'd argue that's despite Cage's one-note presence in those films, not because of it.
Take away a fast-paced plot, however, and you're left with Cage's boring performance. Which is pretty much our main reaction to Bangkok Dangerous.
In this remake of a 1999 Hong Kong movie by the same name, Cage plays an assassin names Joe. He's sent to Hong Kong in order to take out what he hopes to be are the final four individuals ever in a career of killing.
Joe takes out the first three on his list with ease, as the first half of the film is entertaining. There's a cool boat chase.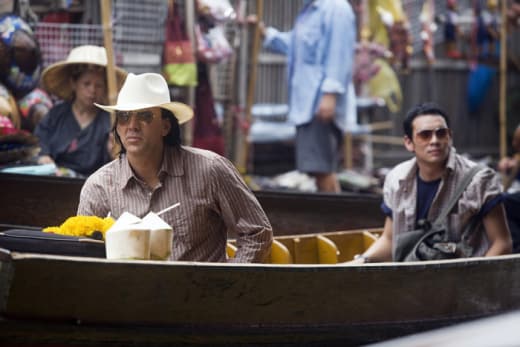 However, halfway through, Joe undergoes a sudden and unexplained character. It's depicted by his evolving teacher-student relationship with a local henchman, along with his entirely platonic relationship with an attractive pharmacist; neither is fully explained well.
In the end, Cage just doesn't do it for us. He can't carry a movie anymore. Put him on Alcatraz and give him Sean Connery as a foil and we're totally there. But plop this actor down in Hong Kong in the cliched role of a killer who questions his morals and we couldn't care less.