Ghost Town might feel familiar to many viewers - The Sixth Sense meets Groundhog Day I saw one reviewer refer to is as - but the movie still works for one reason:
Ricky Gervais.
The British star, who created The Office in his native country, is simply hilarious. The actor has made a career out of being awkward and, for the most part, rude. At least as far as his characters go. Dentist Bertram Pincus is no different.
He awakens from a near-death experience and is constantly haunted by ghosts, a major problem for a guy that doesn't even like talking to living people.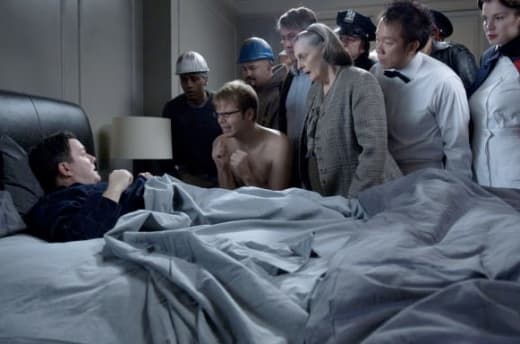 Gervais this role with the perfect amount of biting humor. But the film offsets that, successfully, with darker tones. Many people in the film are dead, after all, and Greg Kinnear's Frank is set on stopping his ex-wife from getting married again. Not very uplifting stuff.
Moreover, Frank thinks his affairs have gone unnoticed by this former wife, but they haven't. This dramatic revelation is handled with extreme delicacy and sadness... but is then readjusted with humor by Gervais.
As the summer winds down, studios typically release movies that aren't exciting enough for June and July; and not impressive enough for Oscar voters in the fall. Ghost Town may fit both of those qualifications, but you won't be disappointed with it.