No longer a popular stand-up comedian, Dane Cook is on the verge of becoming an unpopular actor.
His previous film - Mr. Brooks and Employee of the Month - have tanked at the box office. And we see little reason why My Best Friend's Girl will be any different.
Cook co-stars in the movie with romantic comedy stalwart Kate Hudson and American Pie actor Jason Biggs. And the casting is part of this film's problem:
We can't look at Cook without thinking of his irritating Major League Baseball commercials in 2007 (there's only one October, Dane, we know); or at Hudson without thinking of better flicks in this genre (we loved How to Lose a Guy in 10 Days); or Biggs without imagining his penis inside an apple pie.
\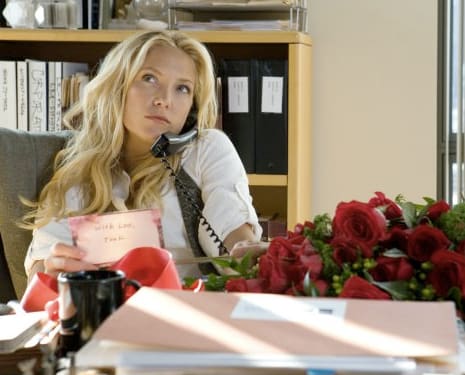 In My Best Friend's Girl, Biggs' character of Dustin wants to win back his ex, Alexis (Hudson). Therefore, he hires his best friend, serial jerk and womanizer, Tank (Cook). Naturally, Tank falls for Alexis. And the question is posed: does he choose his bro before his ho?
It's an age old dilemma for guys. But it's not one that is posted in any kind of entertaining way in this recycled romantic comedy.