It should be noted, before we get into an in-depth review of Nick and Norah's Infinite Playlist, that we're unabashed Michael Cera fans.
As loyal viewers of Arrested Development, it matters little that this actor has continued to play that same basic role of an awkward George Michael Bluth. He could never change up his pattern and we'd still go watch every movie Cera stars in.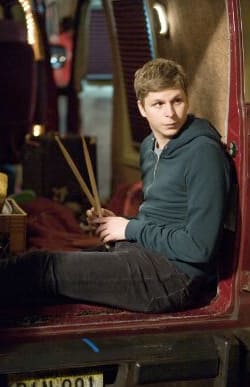 That being said, Nick and Norah's Infinite Playlist really is a cute, funny film. In it, Cera plays Nick, Nick the lovelorn bass player for an electo-punk band whose other members are all gay. Down on his luck after being dumped, Nick soon enjoys a crazy night in NYC alongside Norah, a free spirit that kisses him at one of Nick's band's gigs.
Previously, we only knew Kat Dennings as Catherine Keener's daughter in The 40-Year-Old Virgin, but she's the breakthrough star of this romantc comedy, an ideal foil for Cera's wry, deadpanned delivery.
Nick and Norah's Infinite Playlist captures what it's like to be in love in the big city. Or at least feel like you're in love in the big city, if only for one night. After a whirlwind of a night, the two main characters end the film by coming down from their high and relaxing, the end result of any all-nighter.
Viewers will leave the theater feeling the same way: satifised, relaxed and happy about how the last couple hours of their evening was spent.