It's difficult to review a movie such as Nights in Rodanthe.
Based on a Nicholas Sparks book - he's the same author that brought us The Ultimate Chick Flick, The Notebook - this Diane Lane/Richard Gere vehicle is pure schmatlz. And that's likely the reason people are going to see it in the first place. No amount of criticism over just how cheesy the movie is will deter them.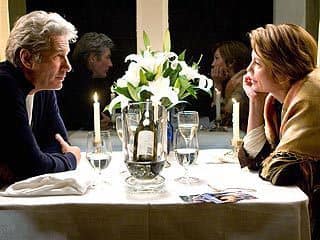 Still, this story tests even the most loyal Sparks enthusiasts' patience for laying on the romance:
Lane and Gere portray a pair of middle-aged people. Gorgeous people. Each, of course, has been wounded in marriage. They just happen to be the only occupants of a seaside inn on North Carolina's Outer Banks. On a fateful weekend. During hurricane season.
You can't make this stuff up. Well, Sparks can. But doesn't an over-the-top set up such as this take away from any earnest emotions the movie tries to elicit? It did for us.
The two stars have great chemistry together, as anyone that saw Unfaithful knows. (Although Lane had her best chemistry there with her French lover. Yowza!) But it's all too forced.
There's no suspense at this point in a Nicholas Sparks story. And that might be okay if the plot wasn't as contrived as it is in Nights in Rodanthe. But we can't get past the forced setting in order to appreciate the romance.