With all the critical praise being heaped on Anne Hathaway for her potrayal of Kym in Rachel Getting Married, we expected this film to be a let down.
It was not.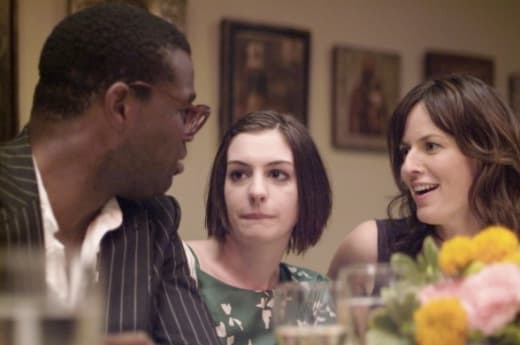 We almost had to go back and watch The Princess Diaries again in order to remind ourselves that it truly was Hathaway taking on such an innocent, sweet role so many years ago. The character she plays in this film couldn't be more opposite.
Kym has been in and out of rehab for years; she simply cannot forgive herself for her role in the death of her little brother, Ethan. But she is released for a weekend in order to attend the wedding of her sister, Rachel, as the siblings go about their time together via a mostly superficially polite relationship.
Instead of blatantly fighting, though, there are little moments when the tension spills forth. It's this subtlety that truly makes the movie - and Hathaway's role in it - stand out.
It would have been easy to create an over-the-top character; or a typical, bumbling family affair where one crisis plays out after another. Rachel Getting Married isn't about pratfalls or screaming matches, though.
It's about one specifically troubled individual that carries a lifelong scar with her wherever she goes, however she acts on the outside. And Hathaway pulls it off in a way that makes us with Oscar voters could award her with a nomination right now.