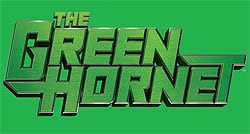 The Green Hornet just got some street cred.
Stephen Chow, one of Asia's most popular box-office draws, will direct Seth Rogen and star opposite him as Kato in Columbia Pictures' upcoming adaption of this famous comic book. It's set for release June 25, 2010.
Questions have been raised about the movie, as Rogen isn't typical super hero material. But he and writing partner Evan Goldberg have insisted that fans of the original series will be satisifed with the final film product.
Matt Tolmach, co-president of Columbia Pictures said:
"When Seth, Evan, and Neal said they wanted Stephen Chow to be part of 'The Green Hornet,' it was a fantasy. Now that it's happening, it's almost too good to be true. Stephen's been a very important part of the Sony family for many years, so it's truly serendipitous for us to be moving forward with him directing the movie and starring as Kato."