W. is a tough movie to market and a tough movie to review. It's certainly the first ever biopic about a sitting U.S. President.
Considering Bush's extreme unpopularity, though, along with the current state of the country, Oliver Stone's look at George W. Bush is actually rather restrained. Or, to perhaps put it better, it could be a lot worse.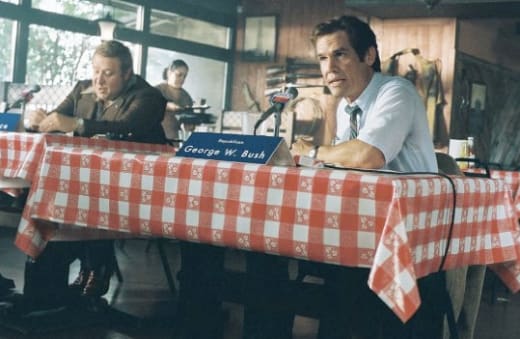 It's hard not to wonder why the acclaimed director didn't wait a decade to release this movie, as it would have enabled him to gather more information, as well as avoid the difficult terrain of opening the film the week before election day. Then again, that was likely his intention.
Overall, Josh Brolin is a terrific Bush. This actor is slowly evolving into one of the more reliable stars in the business. And Elizabeth Banks is as likable on the screen as Laura Bush is in real life.
Oddly enough, our main criticism of the movie, is that it is too conventional. You'd think a film about someone such as George W. Bush would be a truthful, scathing critique or a raucous satire. W. is neither.
Of course, many conservatives will claim it's an unfair look at the President, but just as many liberals might say it doesn't go nearly far enough. In the end, though, it's best to leave party affiliation at the door.
Just walk in, looking for entertainment, and walk out wondering how this story will end.