Karen Allen returned to the Indiana Jones franchise as Marion Ravenwood in Indiana Jones and the Kingdom of the Crystal Skull.
Earlier this week, ComingSoon.net asked the actress a question on the minds of many fans: Is another movie in the works? And would she participate in it, if so?
Q: How open are you to getting the band back together one more time or perhaps doing something with Shia if there was a spin-off done?
Allen: I would say very open to it. This was a delightful experience and I would welcome it.

Q: Has anyone raised that possibility?
Allen: Not really, except for fans. I've had a lot of people ask if there's going to be another one, but not anyone officially. Do you know something that I don't? [Laughs]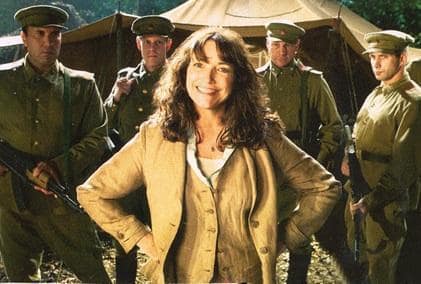 Fans were excited to see Marion back in Indiana Jones and the Kingdom of the Crystal Skull.
Q: If there were to be a fifth movie would you do it because you want to SEE it?
Allen: I would just love to see where they would take it. I'm a fan in the sense that I'm interested in whatever George and Steven would come up with and whoever else they would bring aboard - David Koepp or whomever. I would just be interested in seeing where it does go from here. So now Shia is onboard and he's become this new and interesting part of Indy's life.
I'd like to see them do another one because I'd like to know what happens next… And I'd also like to see how Marion and Indy, what that marriage would look like. So here we'd probably be coming up with the next one that was '56 and '57 and so by the time they'd do another one we'd be in the '60s, and that was a kind of interesting and transitional time for marriages anyway. Women were becoming more like Marion and less like that kind of Doris Day of female of the '50s.