Early photos, quotes and trailers make it look like Zack and Miri Make a Porno is a can't-miss comedy.
In an excerpt from a Kevin Smith interview with MoviesOnline, the director dishes on the upcoming movie:
How did you get the concept for Zack & Miri Make a Porno?
The concept has been swimming around in my head since we finished Chasing Amy because I wanted to do this – not this exact movie but a movie about amateurs making porn with Ben Affleck, Jason Lee and Joey Adams. But we never got around to doing it.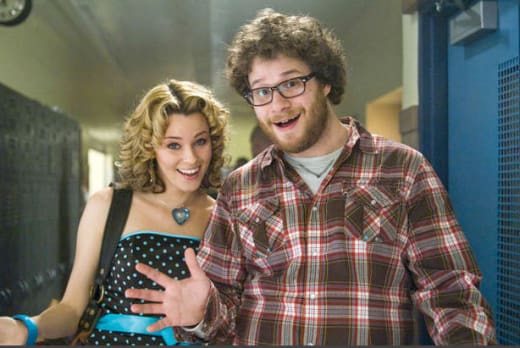 Elizabeth Banks and Seth Rogen are set to make us laugh in Zack and Miri Make a Porno.
We did Dogma first and then life just took us in different directions. Since late 96, early 97, it's been kind of germinating and germinating and I never wanted to do a movie about the porn industry because Paul Thomas Anderson did a great job with Boogie Nights and why bother trying to do better than that. I was always really interested in the DIY porn, the people who were just like "I'm going to shoot myself having sex and throw it up on the internet either for money or just to be an exhibitionist."
That I always found kind of interesting and then I just wanted to kind of meld it with a subject that's always been interesting to me which is the difference between fucking and making love and that's how it kind of came together.