In our Max Payne review, we lamented the lack of screen time for Mila Kunis.
We do with this beauty, who plays Mona Sax in the film, had received more minutes - but we're just grateful we could watch her in action at all.
Here are a couple excerpts of an interview Kunis gave MoviesOnline about the film:
MoviesOnline: Mila, this is your first kick butt action role, did you enjoy the clothes, the guns and the training? Was it different for you.
Mila Kunis: I didn't enjoy the clothes very much. I enjoyed the guns and I enjoyed the training a lot.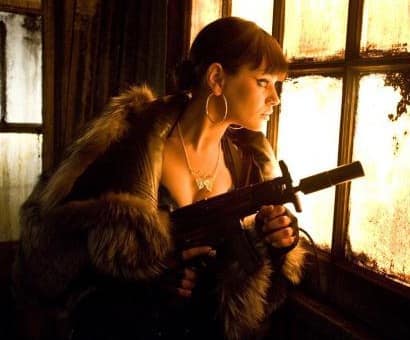 MoviesOnline: What did you have to do?
Mila Kunis: I had weapons safety and then I had to… John for some reason made me learn how to take an MK5H apart and put it back together blindfolded. I really don't know why but I now know how to do that in case anyone wants it. I liked shooting the gun a lot more than I thought I would. I think I like that. The clothes sucked. Oh my God, it was awful. Mark was like bundled up in jackets and wet suits and coats and turtlenecks and I was in a leather bustier and black pants and 5 inch heels