Quantum of Solace is different from past James Bond movies in two ways:
It lacks humor;
007 somehow does NOT shag a hot woman.
Both of these unusual aspects of the film play into the central plot, however: Bond is so focused on avenging the death of Vesper Lynd (from Casino Royale) that he doesn't have time to make his usual snide remarks, or even to bed the gorgeous Camille (Olga Kurylenko).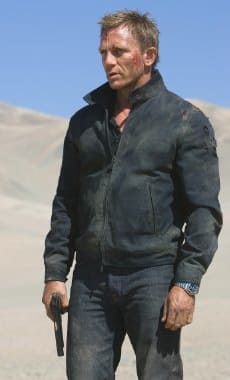 Indeed, viewers are treated to an even more intense agent than usual, but that only increases the action quotient in the film. Bond's mission of revenge takes him across Italy, Austria and South America, as he eventually tracks down Dominic Greene, who is also linked to the mysterious organization known as "Quantum."  
A typical chase sequence from the movie involves 007 weaving through traffic in his Aston Martin, as bad guys blast away at him with machine guns.
Bond does get it on with one beauty, of course: her name is Agent Fields (Gemma Arterton), an MI6 agent. But her fate only adds to the darker tone of Quantum of Solace, one viewers should be aware of before entering the theater - but certainly not one that should prevent anyone from enjoying the movie.
Craig shines again in the main role. As the actor proves he can deliver quips, and body bags, with equal amounts of pleasure.