Guy Ritchie's own worst enemy, when it comes to viewer reaction to his latest movie, is Guy Ritchie.
RocknRolla is simply the latest film on the resume of Ritchie, a resume that includes other films... just like RocknRolla.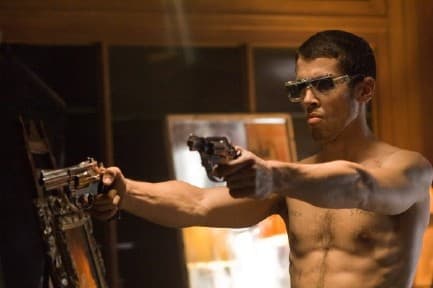 Fans of Snatch and Lock, Stock and Two Smoking Barrels know what we mean. Ritchie specializes in supposedly cool criminals, in fun violence centered around British criminals.
The only problem is that he does it better in the two aforementioned movies that he does it in this one.
In this version, the flick is narrated by Archie, the right-hand man to Lenny, the most powerful money-lender and underworld boss in London. Russians wish to move in on Lenny's world, however, and this brings an assortment of characters into the fold.
They include Stella, played by Thandie Newton; and One Two, played by Gerard Butler. Each of these actors puts on a fine performance.
But it's an old formula, especially for anyone that has seen a Ritchie-directed movie before. He uses the same tricks of slow-motion and freeze frames - but they've gone from being original and noteworthy to tiresome and repetitive.