On October 10, Russell Crowe and Leonardi DiCaprio team up for Body of Lies.
The A-list stars recently sat with MoviesOnline to discuss the thriller. Here are highlights from the interview:
MoviesOnline: A lot of your scenes in this film are you and your cell phone essentially, was that like doing a voice on a cartoon?
Russell Crowe: I don't know. I've never done a voice on a cartoon. It's the same as if you're doing a CGI film and you're supposed to be floating in a flock of black ravens. In fact, most of the time when you're on a film set, what you see in the audience has nothing to do with the experience of the actor. So you've always got to be shutting off things that are going to affect your focus and all that sort of stuff. So it's the same sort of thing where you just zero in on the phone call.
Some guys try to attempt to do that thing of having both people on the phone at the same time which is just utterly a waste of time. It's a waste of time. It's better off that you just do the groove by yourself. And then if you shot it first, the next person gets to hear where you were and they will fold into that, or if you're doing it second, it's the same thing. You listen to what they said and then you have a think about it.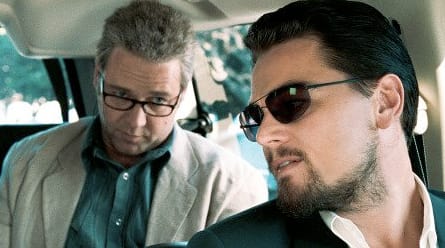 MoviesOnline: Were there any stunts that were particularly challenging or painful? Also, you had to learn some Arabic, are you able to remember any of that?
Leonardo DiCaprio: Absolutely none, I can't remember a single word even to tell you the truth. But we had an Arabic coach there that was really helpful, because it was more so than any accent, you have to be so exact and there's different dialects of Arabic from country to country, so it was really, really difficult to tell you the truth. And one of the hardest things I've ever had to do language-wise, because it comes from the throat, it's different, and also learning about the customs and the culture and all that, so we had advisors for that sort of thing.
As far as the stunts were concerned, yeah, it was difficult, it was a very, very difficult shoot, but that's the nature of working on a Ridley Scott movie. You have to embrace that. The pace in which he shoots is really intense, really fast paced, and you have to be prepared for anything in any given moment. He literally has helicopters on standby circling around, ready to get an overhead shot of you running through an entire city, and he's like:
"Alright, you're happy with the scene, great, you've got your dramatic beats, okay. Why don't you walk down the block and we're going to have three helicopters chase you through an Arabic street in real time? They've blocked off some traffic, but you'll be fine. It'll be great. Go ahead." And you have to just be prepared for that.
And that was the biggest adjustment. I'd just come from this other movie called Revolutionary Road that was like doing a 1950's play where we are talking about our feelings for months at a time in a small room, and then I wound up in Morocco with missiles being shot at me. It was a bizarre transition, but once you get accustomed to that pace you embrace it and you enjoy it and it starts to become this adrenaline-fueled work environment that you love.