Don't look now, but Simon Pegg is becoming an American movie star. He appeared in Mission: Impossible III and received critical acclaim for Run Fatboy Run.
In a recent interview, the British actor spoke on his new starring role in the big screen adaption of How to Lose Friends & Alienate People:
Did you spend much time with Toby Young researching the role of Sidney Young before you started filming How to Lose Friends & Alienate People?
I read his book, which was the first thing I did. Then I realized that I didn't ever want to do an impression of him because the script is a fictionalization of his book. It's a very anecdotal account. It doesn't necessarily lend itself to a movie when you first read it.
What [screenwriter] Peter Straughan did was to fashion a fiction out of the information that he had, and create this universe that was a filmic version of it. So I thought, "I'll play the character from the ground up, but I'll go meet Toby and see what he's like."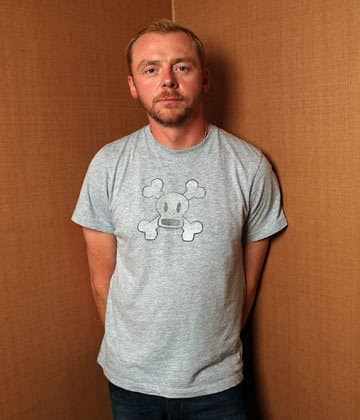 And he's got this weird kind of [affects gravely voice] "bah bah" about him, which I thought would be distracting if I did that in the movie. But it was interesting to meet a guy who essentially didn't really care what anyone thought. He cares what one percent of people think about him and nothing about what the rest of them think.
He's genuinely happy to be hated, it doesn't really bother him, and that's very opposite to me. I don't want to be hated. [Laughs.] And it was fascinating just to talk to someone who has no compunction about upsetting people.