As Movie Web reports, when Jon Osterman is transformed into Dr. Manhattan in this March's Watchmen movie, well, parents may wanna cover their children's eyes.
Director Zack Snyder and company have made this graphic novel character spring to life in every area possible, including the crotch area.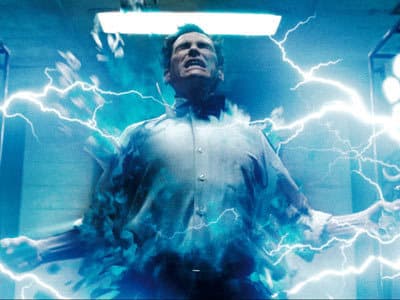 Here's what Snyder had to say about making Dr. Manhattan so well-endowed:
It was a weird process. We made a wedge. That's a visual effects term. It was done in quick time. We would scroll the length up and down. And we wrapped it around a frame. Of course we were worried about the rating. Yeah. We are still nervous about it. It wasn't so much about taking any inches off.
It was more about how many times you get to see him. We have an R rating right now. So they've seen him. Maybe, partly because he is CG, they thought it was okay. It was a really practical decision to make it that length. Then we put him in the thong, which is CG. We basically took his outfit from the book. But, as in the book, we took it off him. Because he just lets it go. He certainly lets it all hang out.