What happened to Super Troopers 2?
Hopefully, this sequel is still in the works, but we have different news surrounding the comedy troupe Broken Lizard:
They are reportedly teaming up with Counting Crows lead singer Adam Duritz on the comedy Freeloaders. Should be an interesting partnership.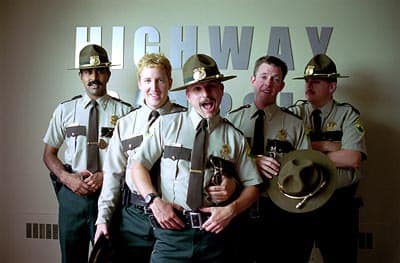 According to Variety, the movie will focus on a quintet guys and a girl that live in the lap of luxury in a rock star's mansion. However, their ideal situation is threatened when the rock star decides to sell the house. Could be a tough market in which to attempt that.
Broken Lizard, of course, is composed of Colgate University graduates Erik Stolhanske, Paul Soter, Steve Lemme, Kevin Heffernan and Jay Chandrasekhar.