As the hype for Quantum of Solace - which opens today! - has escalated over the last few weeks, star Daniel Craig has received the bulk of the attention.
But the actor recently gave praise to director Marc Forster. Here's what Craig had to say:
"What Marc is, fundamentally, is not only a great director, but a lover of movies. He knows the process. If you look at his films, how varied they are from 'Monster's Ball' to ['Finding] Neverland' to 'Kite Runner,' each one is so individual. You would think they were different directors if you were to look at them blindly I think, and that is what I think he brought to this.
He brought this attitude of here we go, it's a Bond movie, we don't get to have chances like this very often, lets give this a go. I mean the discussions we had before we started shooting were about the classic Bonds we love, the classic movies of the '60s that we loved. And whatever we are going to do, we are going to make a movie that people remember because it is visually stunning, it goes to the best locations in the world, and that it will be remembered as a stunning Bond movie."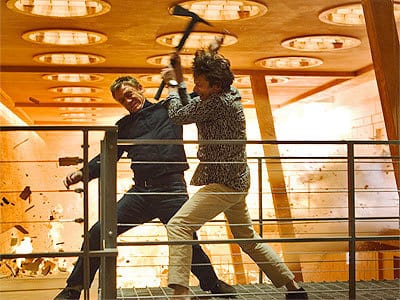 Daniel Craig does battle in this scene from Quantum of Solace.