Kristen Stewart is aware of what she's gotten herself into.
During a recent interview with Entertainment Weekly, the Twilight star made it clear that she knows the pressure her and the film are under. Here are excerpts of what she had to say:
On the hype surrounding Twlight: ''I just want to make sure Twilight's worth the ginormous attention it receives. I hate when people celebrate before you have something to celebrate about.''

On initial reaction to co-star Rob Pattinson: "I [couldn't] do the movie unless Rob [did] it. He got it, and we could, like, see each other."

On pressure of playing Bella: ''It's just surreal to be a crucial part of a machine like this. I'm sort of the vessel. The book is what it is because of these girls' obsession with [Edward] through me. If I wasn't right, I'd be persecuted, and put on a cross.''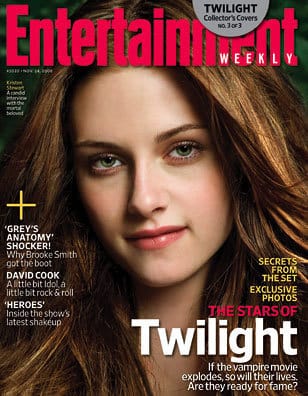 The pressure is on for Kristen Stewart to come through in the role of Bella Swan.