Paul Rudd doesn't simply star in the new comedy Role Models. He also receives his first writing credit for the movie.
The actor talked about the experience in a recent interview:
How did you become involved in the writing of Role Models?
It was unintentional. I was never supposed to be, I guess. I read the script, but it was kind of evolving. The idea was there of a couple of guys that get in trouble and have to go into this mentoring program. I thought that was a very funny idea, and there was comedy. [Adopts soft, sarcastic voice.] And lessons to be learned. And tears to be shed.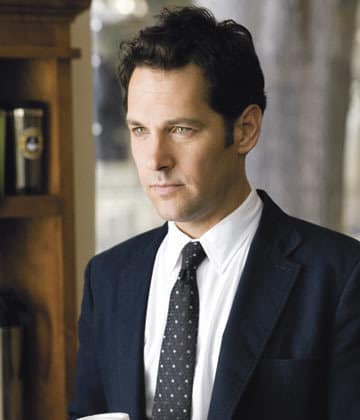 The portrayal of medieval role-playing in the movie is satirical, yet strangely respectful.
Very much so, that was a big concern for all of us. 'Cause we don't wanna make fun of this, we want to hopefully show what's awesome about it, which is that a kid who maybe feels a little alienated can find something accepting and fun and freeing in all of it. If it's mean-spirited, it wouldn't work. 'Cause it's such an easy target anyway.
If you can somehow capture the joy in it—it's certainly a switch for my character, who has no joy in anything, and has really hit a point in his life where mildly annoying things cause him to flip out, 'cause he has no sense of humor about anything anymore. If he can kind of re-discover—this sounds so Dr. Phil-y, ugh. I'm puking in my mouth just a little bit just hearing it. Did you see me spit, by the way? That wasn't even spit. That was drool. It made me actually kind of puke a little. Wow.