Count Terrence Howard among those not looking forward to Iron Man 2. The reason?
The actor has been replaced in the role of Jim Rhodes by Don Cheadle.
Now, Entertainment Weekly has gone behind the scenes of the cast shake up and come up with a list of reasons why Howard won't be returning to the franchise:
Howard was the first actor signed for Iron Man; and he was paid accordingly, actually making more than Gwyneth Paltrow, Jeff Bridges and even Robert Downey Jr.;
Director Jon Favreau was unhappy with Howard's performance cut many of his scenes;
Therefore, Howard's screen time was minimized during writing of the sequel;
As a result, the offer made to Howard for Iron Man 2 was drastically lower than the salary he made on the original, reportedly as much as 80 percent lower.
From there, it's unclear which side left the negotiating table first. But it appears as though Howard's on-set problems, combined with his displeasure of a pay cut, led to the casting of Cheadle in the role.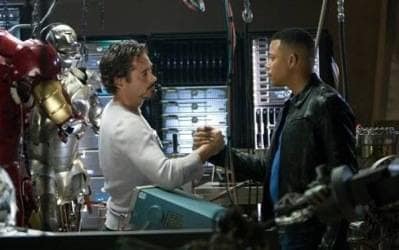 Look for Downey to shake hands with Cheadle in Iron Man 2.