You can certainly take your kids to see Bolt. They'll have a great time.
We just wish we could say the same about the parents in attendance.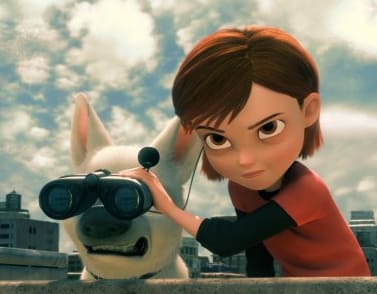 Because the animated feature is from the minds of Disney, not Pixar, we weren't expecting the next Toy Story. And the film's two main voices, John Travolta and Miley Cyrus, will likely remain sought after commodities in the voice-over world following their work in this film.
Recent family fare such as Kung Fu Panda has left us spoiled, however, to the point that we expect to enjoy these movies as much as young viewers do.
Still, Bolt - about a dog that plays a hero on television, only to be thrown for a loop when he's misplaced in real life - is entertaining enough. The best lines are actually not uttered by Travolta's main character or Cyrus' Penny; they fall to Mittens, a world-weary street cat, and Rhino, a starstruck, plastic ball-encased hamster.
Also, remember to stick around for the closing credits: The former Grease star and current Hannah Montana actress team up for a song, "I Thought I Lost You."