Four Christmases is your basic holiday, family fare.
In the comedy, Brad and Kate are a couple that can't wait to get away for Christmas. They aren't married, they don't have children - and they are thrilled to be in such a state.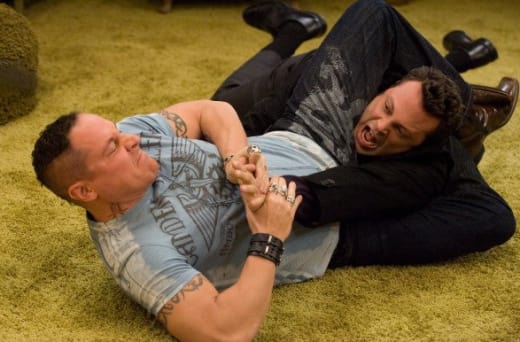 Brad and Kate's ideal vacation is thwarted by the weather, however, forcing this pair to actually trek to various homes for the holidays (both of their parents are divorced). As you might expect, hijinks ensure, as Kate is handed baby after baby, despite her aversion to little ones; while Brad must stare down his UFC-fighting brothers.
The film gets off to a fun begginning, as it's pretty much impossible to dislike Reese Witherspoon and Vince Vaughn in the lead roles. Their heights alone are cause for amusement, as the actor stands over a foot taller than the actress.
As the film drags on, however, it falls into the same cliche-ridden story line that befalls many romantic comedies: the couple learns a lot about each other, realizes that they haven't always been honest and vow to change their ways. Awww.
It's mostly what you'd expect from this sort of movie, which is a pleasant, harmless date film.
Witherspoon and Vaughn are enjoyable, but we'd have preferred to have seen them continue with non-stop pratfalls and one-liners. We don't need any life lessons from such a comedic pair.