Twilight tries too hard.
We know the film is based around vampires and all, but must it bludgeon us over the head with this theme? As soon as we saw Robert Pattinson (in the role Edward Cullen) and his pasty skin and red lips, we rolled our eyes. Of course the guy is a vampire! Couldn't the movie has made this a bit more subtle?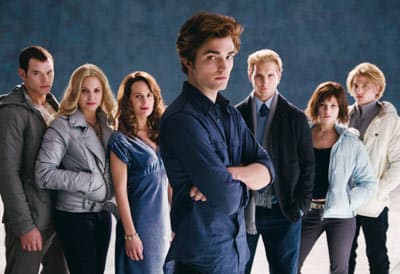 Edward, of course, is a unique brand of vampire; he's a protector. He actually has a seizure when he first sits next to eventual love interest Bella. The reason? He just can't control himself around such beauty. Again, not much subtlety here.
Both Pattinson and Kristen Stewart are well-suited to their roles. Stewart is especially adept at portraying Bella's detachment and constant questioning of why she's the worthy object of Edward's special affection. But the actors have a script to work with that focuses too much on younger, impressionable viewers.
Teenage girls were gonna scream for Edward no matter what, we wanna tell director Catherine Hardwicke. Those first coming to these stores via the movies - as opposed to the best-selling series of novels - need more of a hook, however.
Instead, Twilight is too repetitive, too focused on a love story is almost forces upon its audience. Here's Edward, he's a vampire! Here's Bella, she's new in town and attracted to this strange classmate! Cheer them on as they face various obstacles.
We'd like to, Twilight writers. But a better-written movie would allow us to feel more of an attachment to these characters and, therefore, most of an emotional investment in their story.