Jim Carrey may star in the movie Yes Man, but does that movie's mantra reflect the actor's real-life attitude?
He was asked that in a new interview with MoviesOnline:
When you look back at your own life, have you been mostly a yes man or a no man over the years?
I would say yes, even when I say no (laughter), because sometimes saying no is saying yes to your own self worth.  You know what I'm saying?  (laughter)  I like to enjoy life, I like to engage in life, so I would say I'm a yes man.  I said yes to so many things, from a sex change to gastric by-pass surgery (laughter), so it's always paid off for me.  (laughter)  I've kept the weight off.  (laughter) I have, I work hard at it.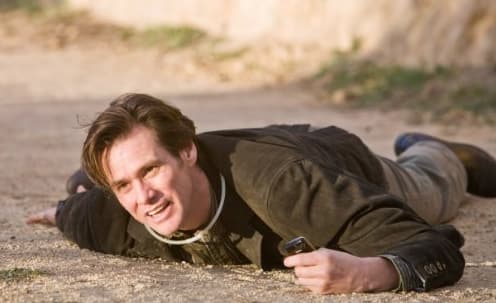 You're a very positive guy, was it hard to make fun of a philosophy you personally subscribe to?  You believe in the power of positive thinking.
Yeah, no, everything can be made fun of.  The most serious things are ripe for making fun of them. I have spiritual beliefs that I could literally go out and make an entire comedy routine about, and tour as some sort of spiritual guru, but it kind of goes against that [as] I actually believe the things, so I'm always kind of caught in the middle.