Titanic fans are rejoicing: Kate Winslet and Leonardo DiCaprio are reuniting for Revolutionary Road.
The pair of stars grace this week's issue of Entertainment Weekly. Here are excerpts from the interview they gave to the magazine:
How scared were you to mess with that original magic?
Leonardo DiCaprio: Over the years, I would find myself stopping and saying, ''I don't know if we should do this again.'' And then I'd think, ''What are you, an idiot? Why wouldn't I want to work with the best actress of her generation? Am I going to be prejudiced against a project just because Kate's in it?'' I think we both had been actively looking for something else to do together, but we fundamentally knew that we couldn't tread on any sort of similar territory.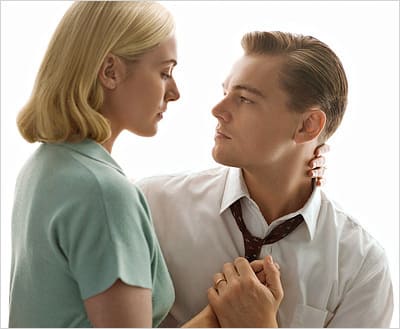 There are countless examples of how sudden fame can permanently destroy a young person in Hollywood, and yet somehow the two of you emerged intact.
Kate Winslet: I look back on that time now and I remember thinking, ''I'm doing okay, I'm absolutely fine. My life hasn't changed. I won't let it! I can just walk to the grocery store and buy milk in my pajamas still. Ahhhh, right, no, I can't. I have no idea what the hell is going on or how I'm supposed to deal with suddenly having 10 paparazzi there. Oh, okay, ohhhh, I get it. Anonymity, that's gone.'' I look back and think, ''Jesus, I was seriously ill-equipped emotionally to be able to cope with all of that stuff.''