Beyonce Knowles is a perfectly fine actress.
In Cadillac Records, she portrays Etta James during a time of severe addiction and depression, as the singer emotes, cries and seduces at all the proper moments. But there's just one problem: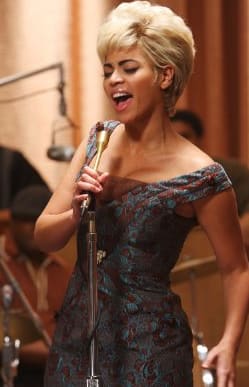 Never, for one moment, do we forget that it's Beyonce in the lead role.
It's not necessarily the actress' fault, but her two main roles so far - this movie and Dreamgirls - have depicted Beyonce as a singer. Which is what she does best, of course. Therefore, watching her in the role of James doesn't come across so much as biopic about Etta James; but rather as a film about Beyonce playing Etta James.
The star overshadows the character.
The movie may have worked better if Muddy Waters, the first artist signed to Chess Records by his business partner and friend Leonard Chess (Adrien Brody), was actually the main character, with James in the background. That would have been a harder film to sell, of course.
Aside from the Beyonce problem, the movie doesn't feel very fresh. There have been a horse of flicks about the music business over the last few years, such as the aforementioned Dreamgirls. This one leans heavily on its main attraction, along with solid performances from bit players such as Mos Def and Columbus Short.
In the end, however, it's a showcase for an actress that is yet to come across as especially charismatic on screen.