Defiance is based on a startling, impressive true story.
It's the sparsely-known account of three Jewish brothers who rose up against the Nazis in occupied Eastern Europe, and it stars Daniel Craig and Liev Schreiber. The movie is based on the book "Defiance: The Bielski Partisans," by Nechama Tec.
This is a tale everyone should be aware of, but the same can't be said for a rather drab film version of events.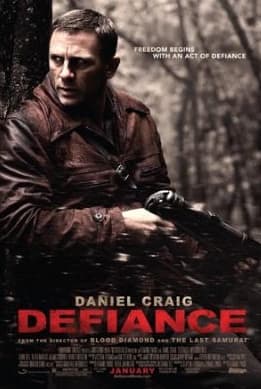 Defiance is designed to counter the prevailing idea that Jews simply accepted their fates in ghettoes or concentration camps; most of the time, of course, they had no choice. However, the movie shifts the spotlight on an instance in which resourcefulness, tenacity and heroism resulted in 1,200 Jews emerging from the woods at war's end.
Again, it's terrific, inspiring stuff. But this drama turns it into a boring history lesson.
Events become standard-issue fare, chock full of noble and tragic heroism, familiar battle images and last-second rescues. There's little you haven't seen elsewhere, aside from the overall plot itself.
Overall, while the basic facts of Defiance are enough to propel the suspense for awhile, the second half of the film feels like an empty pay-off.