The transformation of Clint Eastwood is complete.
In Gran Torino, the actor portrays Walt Kowalski, a widowed, retired autoworker alienated from his grown sons... and just about everybody else.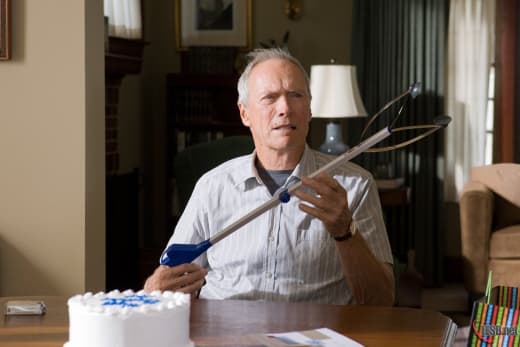 But while this character may have been played a an intimidating, sneering fella during Eastwood's days as Dirty Harry, Walk is simply a sad, bitter man in the movie.
He lives next door to a fatherless, multigenerational family that includes teenage son (Bee Vang), who struggles to steer clear of a local gang and ends up under the watchful eye and wing of Walt.
The resulting relationship is subtle, perceptive stuff.
Eastwood is no longer an overwhelming presence, either on screen or at the box office. But he can deliver a profound line, or tell a story with his face. It's those, less-over-the-top features that are highlighted here.
The actor/director has devoted his recent work to focusong on the image of American men in decline. Gran Torino is certainly an example of that.
A touching, sentimental, suble example of it.