The year is 1955. Frank and April Wheeler are approximately 30, are the parents to two children - and are very unhappy.
Each believes he/she can evade the traps of the mundane, suburban existence the couple has chosen, as Frank yearns to leave a New York job he hates, while April, who to be an actress, still feels she's meant for more important things.
As any movie fan knows, of course, the initial draw of Frank and April - as well as with Revolutionary Road in general - are the stars: Leonardo DiCaprio and Kate Winslet are working together for the first time since Titanic.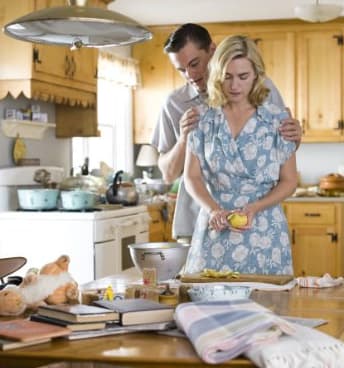 The real-life friendship between these actors is evident through the Sam Mendes-directed drama. The chemistry jumps out at every turn, even as it's revealed that this marriage is rockier than any involving Pamela Anderson.
In order to escape from their boredom, April devises a plan that involves a move to Paris. Sounds exciting for the family, right? But it's impractical, of course, the sort of pipe dream that many couples likely entertain when each days blends into the next one.
While Revolutionary Road may seem like a bland tale of a relationship gone bad, it has deception, adultery, shouting, the then-forbidden possibility of abortion. Nothing blows up... except for a marriage that ought to entertain those seeking something more profound than special effects.
Also, keep your eye on actor Michael Shannon. He plays John Givings, a mathematician that's been hospitalized for insanity.
The film definitely dark, but the performances of its stars shine. Here's to hoping it doesn't take another decade-plus for them to work together again.