There is one glaring problem with The Day the Earth Stood Still. His name is Keanu Reeves.
We admire the film for its unique message, yet can't give it a fully positive review due to its messenger. Sorry, Keanu. It's just hard to take anything you say too seriously. Unless it's "whoa."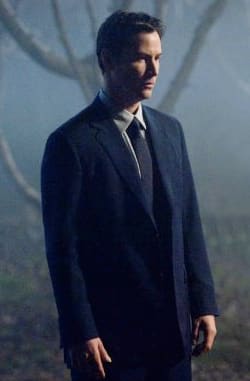 Still, The Day the Earth Stood Still - which is based on Harry Bates' story "Farewell to the Master" - ought to be applauded for its focus on a story over special effects. If you're looking for crazy CGI and over-the-top violence, this isn't the film for you. It's not even on par with Independence Day, as far as those traits go.
Instead, the movie focuses on Klaatu (Reeves), an alien representative. He who lands in Washington with an important message for mankind.

The drama kicks off when humans respond to this stranger with gun fire.
From there, the movie does depict a few scenes of a menacing robot abducting a woman and battling it out with soldiers... but the central focus is an understated and intelligent story. Klaatu actually has things to say, not just a body count to collect.
It's nice to see a sci-fi movie go there, though we wish it had gone there with someone other than Reeves in the lead role.