Maybe - and we emphasize maybe - Tom Cruise could have pulled off the role of Col. Claus von Stauffenberg during his prime movie career.
But as a comeback vehicle, this film makes less sense for Cruise than his Oprah couch-jumping antics.
Valkyrie is based on a true story. von Stauffenberg was a real-life hero, a German famous to his countrymen for his resistance to Nazi rule. He was trained as a loyal soldier; however, the officer's disgust at Hitler's leadership exploded following severe wounds suffered during battle in Tunisia, where Cruises's character lost a hand and an eye.
Simply put, Cruise cannot pull off the role.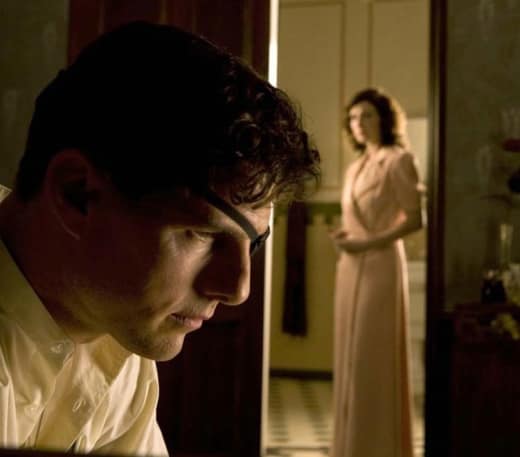 He's too well-known for who he is to simply throw on an eye patch and growl "We need to kill Hitler." (Spoiler alert: the assassination plot fails, as a bomb planted in Hitler's presence did too little damage to prevent history from unfolding as it did.).
The reason why Cruise's hilarious turn in Tropic Thunder was hailed by critics was due to its shock: the actor donned a fat suit and a bald-headed wig, shouted profanities and was obviously having fun with the role.
Now, he wants viewers to take him seriously as a true German hero, one barely known to Americans. It just doesn't work.
Overall, the movie is less interested in why these men, Stauffenberg in particular, chose to take such risks than. Instead, Valkyrie tries - and succeeds - to look really good. Props to the cinematographer.
Director Bryan Singer has assembled a top-notch international cast — with Tom Wilkinson, Bill Nighy, Kenneth Branagh, Terence Stamp, and Eddie Izzard among the British invasion — but its the lead role that brings the film down.
No one sees Claus von Stauffenberg throughout the movie. It's just Tom Cruise, wearing an eye patch, all the time.