According to Great Britian's The Sun, Eddie Murphy will portray The Riddler in the next Batman movie.
And that's not the only rumor this newspaper is spreading. Here's a rundown of what it claims fans can look forward to in the follow-up to The Dark Knight:
It will be released in 2010;
It will be titled Gotham;
Shia LaBeouf will star as Robin;
The movie will end with Batman trapped inside Wayne Towers as it explodes.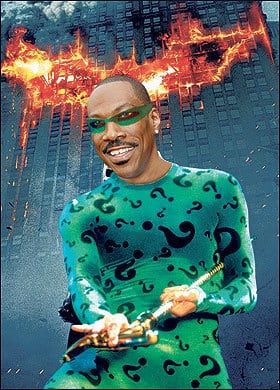 We'll keep readers informed about all these developments, but there are a number of reasons why we don't believe any of the major ones:
Murphy has not starred in a hit film since The Nutty Professor II in 2000; he's no longer a bankable superstar worthy of this role.
Batman & Robin, with Chris O'Donnell in the latter role, is considered the worst movie - by far - in the franchise; no way they resurrect this sidekick character.
Murphy is pretty much confirmed for Beverly Hills Cop 4.
What do you think? Is there any chance Murphy takes on this role? And would you wanna see him as The Riddler?