Detailed plot information is starting to leak out regarding Transformers: Revenge of the Fallen, 2009's most anticipated action movie.
According to USA Today, the sequel finds Sam (Shia LaBeouf) and Mikaela (Megan Fox) under attack by the Decepticons. These evil robots are after Sam because he's learned about the origins of the Transformers, including their history on Earth.
Meanwhile, the U.S. military and an international coalition have united with the Autobots to fight against the villains' attack.
Newcomers in the robot cast include:
Decepticons Soundwave: A fearsome communications expert
Devastator: His arms and legs are built out of other Transformers
Jetfire: An ancient villain who ends up helping the Autobots.
Empire went on the set of this blockbuster and has published the following image from it: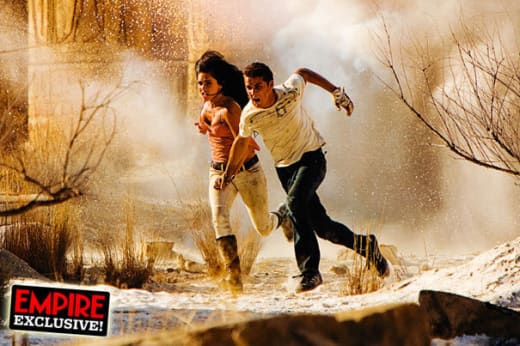 How did LaBeouf make the above scene look so realistic? Because it was.
"I've got 75 military officers firing at me, and I have shrapnel falling on my head that's bigger than my arms. It's hard to be normal," LaBeouf said of the shoot, which featured extras that were real-life Army, Air Force, Navy and Marine members.