It's official:
Spider-Man 4 will begin shooting in 2010.
J.K. Simmons told MTV that he'll continue in the role of Daily Bugle publisher J. Jonah Jameson in the fourth film in the franchise.
"We've definitely brainstormed ideas for Triple-J, but I have no desire to make Triple-J more of the focus of those movies," the actor said. "The amount that I did in 1, 2 and 3, is just exactly right. Like be the wolf. Come in, blow in, do a week, blow out, be the comic relief, and hit the road. And let Tobey and everybody else do the heavy lifting."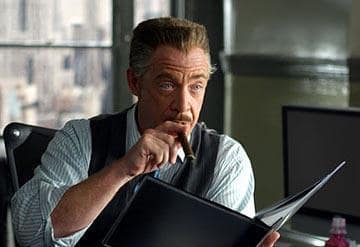 J. Jonah Jameson will have plenty more to wrath to reveal in Spider-Man 4.