Yes, we gave My Bloody Valentine 3-D 4.5 gummy bears. Does this mean it's almost a perfect movie?
Of course not.
But it does mean that it fulfills pretty much everything anyone attending a film called can ask My Bloody Valentine 3-D for.
This is an R-rated horror movie in every conceivable way; it's simply bursting with gory murders and loads of nudity... all delivered in three amazing dimensions!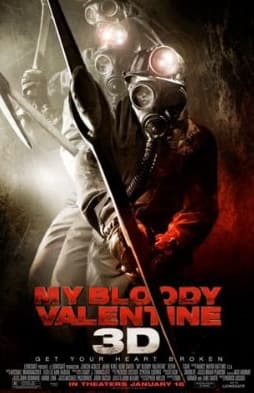 We won't even get into the plot because, come on, does anyone care? This is really all that matters:
The movie takes full advantage of its 3D capabilities. We're talking about a gag once every five minutes, from gouged eyeballs, flying viscera, spinning pickaxes and, it's worth mentioning again, a boatload of nudity.
Any wonder now why we honored the film with such a high rating?