Sarah Palin is gonna hate New in Town.
Truthfully, so is just about anyone that will easily see through the movie's cheap shots at the citizens of rural, snowbound New Ulm, Minnesota.
Without anything original to say, the comedy simply uses this collection of funny-speaking, Jesus-loving, tapioca-making misfits as a punchline. It seems to think folks such as this are deserving of nothing less than utter mockery.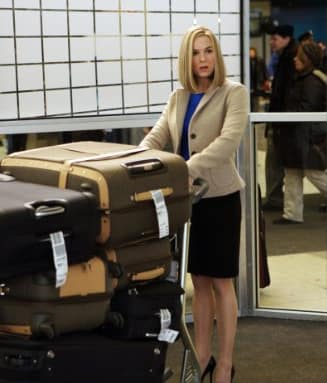 Here's the premise for New in Town:
Lucy Hill (Renee Zellweger, who really is not cut out for slapstick hijinks) is an ambitious executive for a Miami-based company. She accepts, after initial hesitation, an assignment to restructure a failing food-manufacturing plant in the frigid location of of small-town Minnesota.
Sounds like the concept for a failed Fox sitcom, not a movie starring an Oscar-winning actress.
As if the stereotype of small-town life isn't lame and uncreative enough, the movie proceeds as a series of holiday-set episodes - we're treated to Thanksgiving, Christmas, Valentine's Day, etc. -- and then asked to fill in the narrative gaps ourselves.
Overall, this caricaturesof most citizens of the Minnesota suburb isn't worth anyone's time or money.